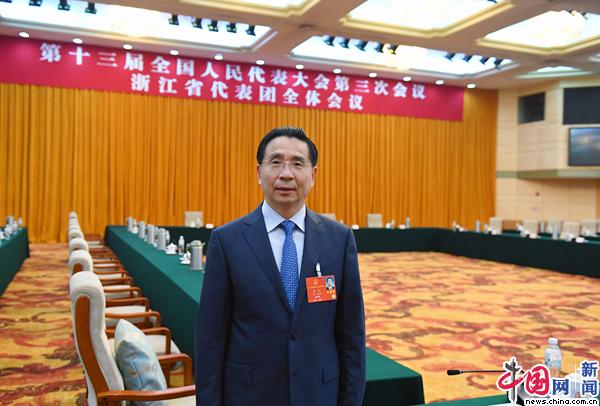 Zheng jie, NPC deputy, director of China mobile group, party secretary, chairman and general manager of zhejiang mobile.
China.org.cn, May 22 (reporter xie luying) in recent years, China has been stepping up efforts to integrate the innovative development of 5G and industrial Internet, and has taken it as a powerful driving force to improve the quality and efficiency of the industrial economy.Zheng jie, a deputy to the National People's Congress (NPC), director of China mobile group, party secretary, chairman and general manager of zhejiang mobile, said in an interview with china.org.cn that the construction of "5G + industrial Internet" should be further accelerated to guide the innovation cooperation of 5G in various segments of industry.
In 2019, the ministry of industry and information technology issued the notice on the issuance of the 512 project promotion plan of "5G + industrial Internet", making it clear that by 2022, a number of key technologies of 5G will be developed to meet the specific needs of the industrial Internet, and the industrial support capacity of "5G + industrial Internet" will be significantly improved.Five industrial public service platforms will be built and 10 key industries with "5G+ industrial Internet" networks will be upgraded, at least 20 typical industrial application scenarios will be formed, and the industrial economy will be upgraded to improve quality and efficiency, the circular said.
This year's NPC and CPPCC sessions, "5G+ industrial Internet" related topics are hot again."We need to strengthen collaborative innovation and integrated development between 5G and the industrial Internet," zheng said.
There are four major difficulties in the development of "5G + industrial Internet" in China.
First, it is difficult to start the transformation of the application of "5G+ industrial Internet".The cost of intelligent transformation of enterprise network and system platform is high, and the switch between intelligent production line and existing pipelinization operation needs to be adjusted, so the effect cannot be shown immediately.
Second, it is difficult to reconstruct the internal network of traditional manufacturing enterprises.The equipment connection rate of traditional manufacturing industry, especially small and medium-sized enterprises, is low. The industrial wireless technology system is mainly based on the wireless short-distance communication of low speed and local area network.There are hundreds of agreements in the industrial field. The compatibility between the agreements is poor, the third party has weak analytical ability, and all kinds of industrial data cannot be integrated and interconnectivity is difficult.
Third, it is difficult to commercialize 5G industrial chips and modules in batches.Thanks to its high technology content, 5G chips are produced by a handful of global manufacturers. Its capacity and price cannot meet the growing demand of industrial Internet.The 5G industrial module has not yet been mass produced, and the current price is dozens of times that of the 4G module, which directly affects the scale promotion of "5G+ industrial Internet".
Fourth, the industry chain is faced with hardware and software "neck" phenomenon.The industrial chain of 5G has not yet formed a complete chain from design to manufacturing to sealing and testing, and there are many missing links in the industrial chain of middle and high-end raw materials. High-frequency substrate, LCP soft board and other materials are mostly imported, and operating system, industrial design, simulation and other software have been monopolized by foreign manufacturers for a long time.
To this, zheng jie puts forward 4 Suggestions.
First, we will strengthen the leading demonstration projects.Suggest that countries continue to promote the development of Internet industry innovation pilot demonstration project, industrial Internet, policies, guide the 5 g in every segment of industry cooperation, to speed up the application scenario for exploration, strengthen the selected tree model, propaganda, incentives, explore a win-win business model, new boot subdivision industry leading enterprises breakthrough in 0 and 1, related enterprises carry out the scale of 1 to N replication.
Second, we will accelerate the transformation of industrial enterprises' 5G internal networks.Suggested to further encourage industrial enterprises to accelerate the reform of 5 g network, will be 5 g into industrial wireless technology standard, through the calculation of 5 g industry private network, edge technologies such as realizing a complete coverage of production area network and all kinds of system data connectivity, encourage enterprises to the cloud cloud, the cloud on the industrial chain, equipment, and through the "computing" 5 g + edge closer to the cloud and the distance from production line, in order to move the generation of solid, flattening and systematism, differentiation of 5 g industrial network.
Third, accelerate the maturation of the 5G terminal industry.Suggested increasing the fiscal and taxation support, actively guide all kinds of investment funds, bank credit to industrial areas, the Internet support 5 g terminal industry research and development, introduction and industrialization development, support and encouragement in the field of industrial Internet 5 g chips, modules, gateway, and industrial access edge computation (MEC), and other communications equipment research and development and industrialization, cultivate leading enterprises and science and technology of small and medium-sized enterprises, the role of promoting "5 g + Internet industry scale development.
Fourth, we need to step up efforts to expand the innovation industry chain of "5G+ industrial Internet".Suggestions to accelerate "research - development - production - market" innovative industrial chain, speed up the transformation of scientific research achievements, promote the colleges and universities and other research institutions to carry out the 5 g in key technology research for high-end core raw materials, devices, etc, encourage enterprises to cooperate with universities to speed up the transformation of scientific research achievements, create university research, enterprise development, batch manufacturing, iterative process with integration of production, market, expand China's manufacturing advantage.
According to zheng jie, with the support and help from the provincial government of zhejiang province, zhejiang mobile has taken the lead in establishing 5G industry alliance in China. Currently, the number of members has reached 193. All of them are leaders or unicorns in all walks of life.At present, zhejiang mobile has implemented a series of exploration and innovation of "machine replacement and strong machine" based on 5G.With xi rimmon, for example, built the furniture industry of the country's first 5 g intelligent plant, construction of the 5 g, 5 g + + equipment for mining and control AGV intelligent control, based on 5 g vision flaw detection, and campus security early warning and the dangerous area and so on four kind of 10 scenarios, 5 g, updated equipment the end-to-end delay of control within the 25 ms, equipment of network deployment cost reduced by more than a third;In cooperation with jiaxing xinfengming, the company launched the world's first 5G filar detection system based on machine vision, which solved the problem of "filar filar clutter" recognized by the industry. The comprehensive deployment of this scheme can improve the product quality rate of enterprises by 0.3% and bring direct benefits to enterprises of over 10 million yuan each year.Cooperate with ningbo zhoushan port, the first national edge calculation based on 5 g SA and sliced the wisdom of the network port system, realized the gantry crane remote control 5 g, 5 g bridge crane intelligent tally, 5 g set card applications such as automatic driving, average end-to-end delay time delay 10.6 ms, build the country's largest 5 g gantry crane remote control cluster, gantry crane operation manpower cost down more than 50%, equipment modification cost saving more than 20%.