How to Increase Your Competitive Advantage with Opticombine's OEM& ODM Service for Industrial Ethernet Switch?

Suitable products can greatly reduce the costs of clinical trials. Instead, continuingly wrong try make you lost a lot and behind your competitors. Why not choose a genius partner who can perfectly meet your standards by bringing the right products.

Currently, the quality and price of industrial ethernet switches vary differently. The price difference is two times or even several times if you choose different purchasing channels. Commercial grade industrial switch sells at an industrial-grade price. The quality is not guaranteed sometimes. You have no idea if something wrong with your switch.
If you are facing or faced with the problems above-mentioned, please take a minute to find the solutions as follows.
You need a switch with high quality and a modest price. No one will acknowledge his quality is bad. But what can be called high-quality? Is that a product made by a well-known brand? Not enough. A well-known brand has lasted for a long time. Yes, they do a better job in some aspects. But it does not show they do well in every aspect. If the switch you need is a little component for them or even outsourced to others, you believe it has a great quality as well as its star products. No, you are not sure either, right? The high price is equal to high quality? Absolutely not. Your money is spent on unnecessary costs, like middleman channels, technical training, service costs. In fact, you did not get what you should have. A better solution is to pay less and gain more.
So what is the high-quality switch?
It is the switch that perfectly meets your needs and satisfies your imagination. How to do it? The product is produced by yourself can reach it. You may have a doubt you have no equipment and workers to produce, even you have no time or no experience, how do you get to? Do not worry. You can find a reliable partner to help you, that is Opticombine. Opticombine provides professional ODM & OEM services to make your dreams come true. You tell your requirements or problems, and we provide the solutions to solve your problems. You do not believe it? Just have a try. Pay little trial costs, and you gain an unexpected surprise. Why not?

Our 8 Port Industrial Switch is selling well in the global market. Why so many customers place repeat orders?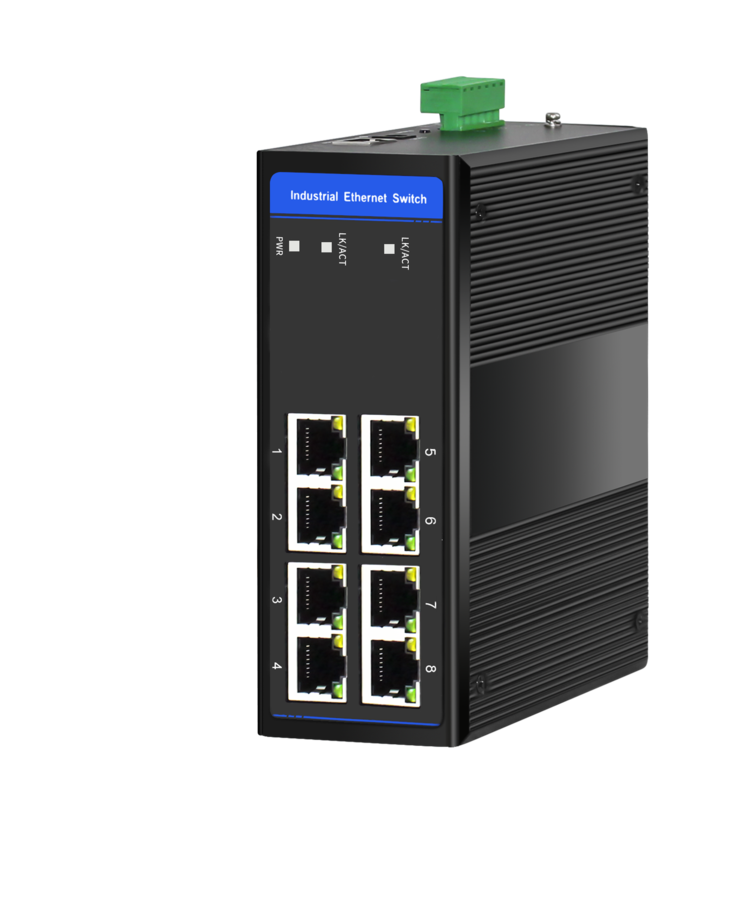 1. With high performed environment tolerance They can withstand hard and extreme working environments even with drastic temperature changes and explosions.
2. Military-grade quality
Switches are ensured to proceed and transmit fast when they connect to networks.
3. Low wrong rate
Featured with QoS, VLAN, IGMP, Link Aggregation, SNMP, and network redundancy, they can recover with less than 20ms in the case of failure.
4. Dual Redundant Power
Our switches support dual redundant power, DC 9-56Vinput power, -40-85℃ wide operation temperature, 1000 Mbps/Gigabit transmission to ensure high-efficient performance.