GigabitPoE Industrial Switch for Security Control System
Why you need a PoE industrial switch for your security control system?
PoE(Power over Ethernet) industrial switch allows the device to draw power from its network connection,such as Wireless Access Points (WAPs), Internet Protocol (IP) cameras, andVoice over Internet Protocol (VoIP) phones etc. It means you can use one deviceto complete two functions.As saying goes, "Killing 2 birds with one stone."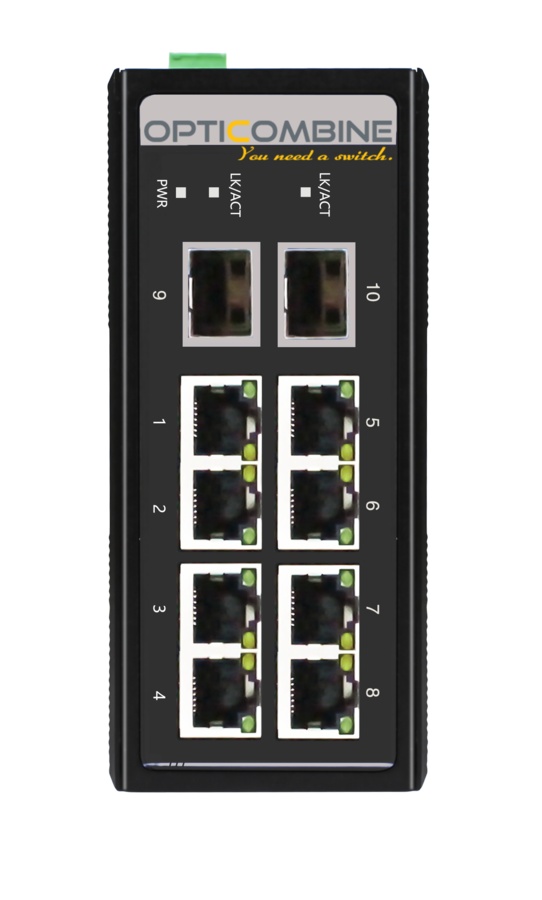 What the benefits of a PoE industrial switch than a normal switch?
First,it is more cost-saving. You can save the installation costs and maintenancefees for cable and extra power fees.
Second,it is easier and more adaptable for use. The plug-and-in design can plug intoany configuration. If not, you can purchase a industrial adapter to make ittoo.
Third,it is safer, the voltage and power are limited in a safe range if you buy thereal PoE industrial switch.
Sochoosing the right PoE industrial switch plays an important role in improvingworking efficacy and saving cost.
Why should you choose Opticombine's PoE industrial switch?
Opticombine'sindustrial PoE (Power Over Ethernet) switches are designed to completehigh-speed voice and data transmission while powering endpoint devices overlong distances.
Theyare featured with more convenient with installation, greatly flexible for thelocation of installed equipment, more cost-saving for maintenance, lessdowntime.
Features
Ø Provide network reliability and high-speedtransmission.
Ø Support Auto-MDI/MDX setting helpseliminate the need for crossover cabling.
Ø With Industrial-design and IP 40protection rate: Opticombine's PoE switches are available to any workingenvironment.
Ø Less to no network congestion: Supportautomatic cross recognition of network port support.
Ø Dual Power Supply: DC 9-56V provides anticonnection protection.
ØCost-saving design: Help utilize the powerefficiently and save money by additional intelligent power monitoring function.